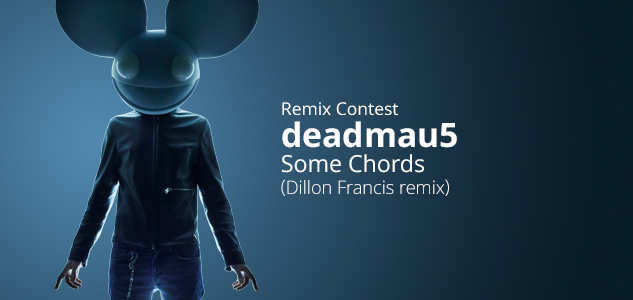 A remix attempt and some lessons
I have to be honest: with some notable exceptions (such as JunkieXL), I don't have much of a remix culture. I am certainly not disregarding the benefits of a virtual collaboration and of experimentation – but, outside those, why not produce something completely original and personal? (My own personal and humble opinion; I do respect the work and culture of remixing – it's just something I feel a little bit foreign to.)
So, hey! When a contest about one of the most successful and interesting electro producers of our day, deadmau5, appeared, I thought I should try my hand seriously at this exercise, and see what I could learn from it first-hand, even though that's way outside my usual comfort zone (which is producing classical progressive electro inspired from the 80's and 90's).
Far from me the idea of calling you to vote for me (unless you want to, of course) – it's less polished than my own stuff, because the time I had was limited especially for the mastering side of things, but I still wanted to produce a submission I was not entirely ashamed of. It's just for the pleasure of sharing my attempt and especially the lessons that came from it:
This is the original | This is my take
So, what did I learn?
Remixing a piece you really like seemed smart but actually, at least for me, it was counterproductive. It's hard to find something to add or reinvent when you think something already works as is…
When time is short, don't reinvent the wheel. I should have decided on a genre, and then subvert its codes and adapt them to the piece, instead of experimenting at random, the way I do when I produce. When I produce, it's a good process, because I can go in any interesting direction and discover new ideas as I go. For remixing, I felt always stifled because I felt I needed to come back to the original. Deciding much earlier on a frame I like (here progressive trance) – which I did, but too late – would have been a better approach.
So, good experiment, huh? An experiment you learn something of is always a good one.
Now back to what I know best: producing. And there will be some announcements made for Psycho Starship Rampage very soon…