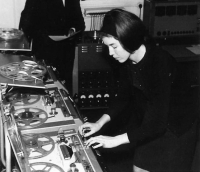 International women's day : remembering Delia Derbyshire
Missed the right date in 2017 by a narrow margin but this year I really wanted to pay tribute, for International Women's Day 2018, to Delia Derbyshire.
Who? Simply one of the most important pioneers of electronic music, but mostly forgotten in a field that has been mostly dominated my men.
The Doctor Who theme is arguably one of the major landmarks of the history of electronic music. It was one of the first pieces to appear in a mainstream programme, and the theme left its imprint in the minds of generations of viewers and musicians.
The composer of the theme was Rob Grainer, but what is less known is that the arranger, and the person who actually performed and built the whole piece, was Delia Derbyshire (assisted by Dick Mills). Remember this is the early sixties, we are 10 to 15 years away from the first real usable synthesizers. Using musique concrète techniques (remember Pierre Henry), mostly splicing tape, using test oscillators (contrary to popular belief, the original sound was actually not produced by a Theremin, even though the instrument already existed) and filtering white noise to create the sweeps that are so commonly used nowadays. Rob Grainer was so impressed by her work that he tried to get Derbyshire a co-composer status but failed due to the internal bureaucracy at the BBC, and she was not properly credited until 2013 and the 50th anniversary episode of the series, The Day of the Doctor.
Derbyshire worked in the field of music until 1975 (check her Wikipedia page for more about her life and career). She passed away in 2001 and remains, to this day, one of the unsung heroes and pioneers of our field, whose work on that piece of music was tremendously influential for decades.
Derbyshire's photo is © BBC (from the documentary Doctor Who Origins).